Ball valve is a valve use to open - close and control the flow rate of clean liquid by quarter-turn valve (turning at 90 degrees), called "Ball valve" because the valve is round shape. And a hole in middle like ball. To enable open liquid flow middle-hollow through, it will rotate parallel to the pipe line. And to disable close, it will rotate middle-hollow that is drilled perpendicular to the pipe line, so the spherical wall of valve block liquid from flowing through.

This valve has main attribute; Easy to control, And adjust the flow 100% rate of liquid to flow through. But limit of the ball valve is not available with a high-pressure liquid. And the resolution to control flow rate less than other types of valves. When the ball valve used to turn-on and turn-off too much, Can make inner-seal of the ball valve easy to wear away, Then it is unsuitable for applications with viscous and dirty liquid.

There are 3 types of the ball valves include plastic, stainless steel, and brass.
In the section, there are 3 working application of ball valve;
- 1 piece ball valve, 2 pieces, and 3 pieces
- 2 ways ball valve
- 3 ways ball valve Which divides the process of changing flow of liquid into 2 types; L-port and T-port.

The important things are mounting actuator with the ball valve, you have to know core size and mounting holes size mainly. Provide the size of core and mounting holes fits well, it can be direct mount together. But If the size of core and mounting holes are very different. Must use to "Coupling Adapter" mounting between core and mounting holes of ball valve with the actuator. Must use "Coupling Adapter " to connect between core and mounting holes of ball valve with the actuator. Or if the core is smaller than mounting holes of actuator. Offer to measure the size of both things, and then find the size that fits "Star" for pinion is matched.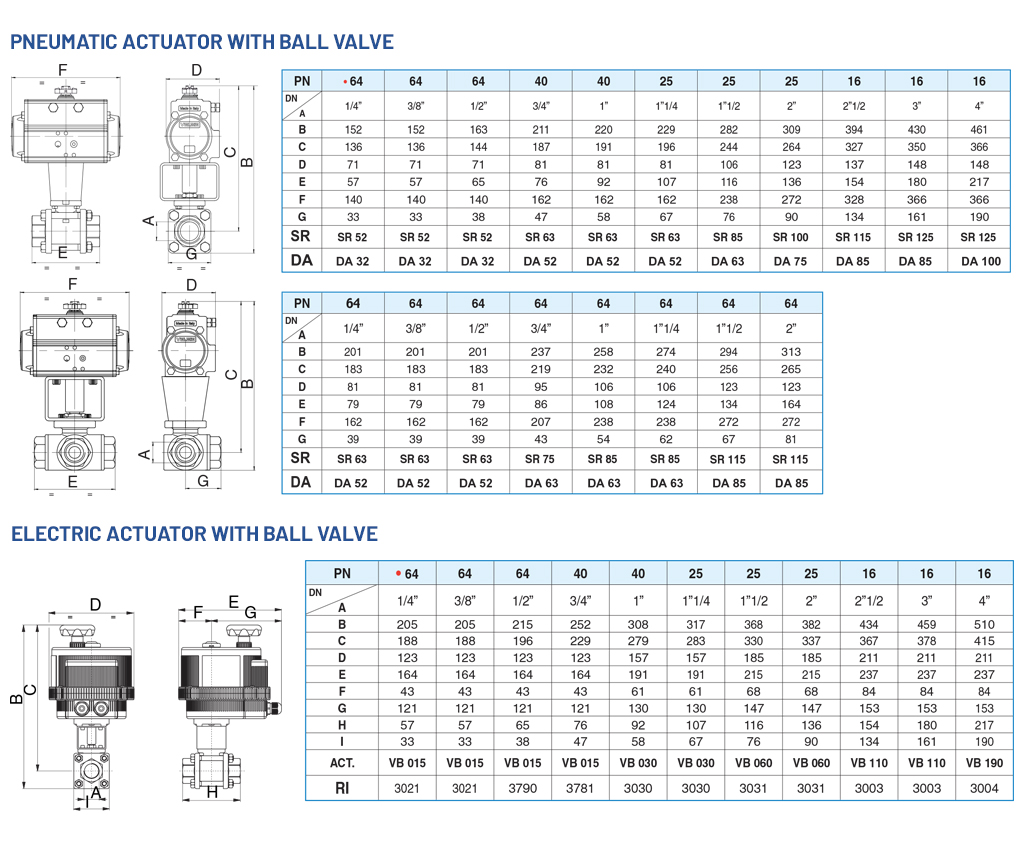 DOWNLOADS
BALL VALVE 2 WAY WAFER
BALL VALVE SPLIT BODY
BALL VALVE 2 WAY THREADED
BALL VALVE 3 WAY L-PORT OR T-PORT
BALL VALVE 3 WAY L-PORT
BALL VALVE 3 WAY T-PORT