Valbia provides a wide range of quarter-turn single-phase electric actuators, available with different voltages of power supply (12/24V/100-240V) and frequency (50/60 Hz), with CE and UL certifications and diferent level of protection enclosure (IP-UL Type).
Valbia electric actuators are suitable for the automation of a great variety of ball and butterfly valves for the industrial and civil sector, with a torque valve that goes from 15 to 350 Nm.
Valbia selects, manufactures and uses high quality components to assure high performances:
• the electronic circuit uses last generation components to guarantee high control performances allowing, among other things, the motor speed automatic adjustment according to load variations, maintaining constant the declared working time;
• the electronic system for the control of the maximum torque (torque limiter) and the heater with the thermostat circuit, both included in the standard version and always automatically operating when the actuator is powered, ensure a constant protection of the actuator;
• the gear train is made of two steel and technopolymer gear wheels, inserted in a strong die-cast aluminum structure and sustained by hardened steel pinions mounted on self-lubricating bushes, to guarantee a very high resistance level of the mechanical part;
• the actuators are equipped with a die-cast and painted aluminum plate per ISO5211-DIN3337 standard, in order to allow a rapid and direct connection with most of the valves available on the market.

Valbia manufactures two series of electric actuators:
- Standard version : ON/OFF (0°-90°, 0°-180°)
- Version with POSITIONER STD (4-20mA or 0-10 VDC)

In addition to the standard versions, Valbia offers a wide range of special versions designed to provide effective solutions for every need.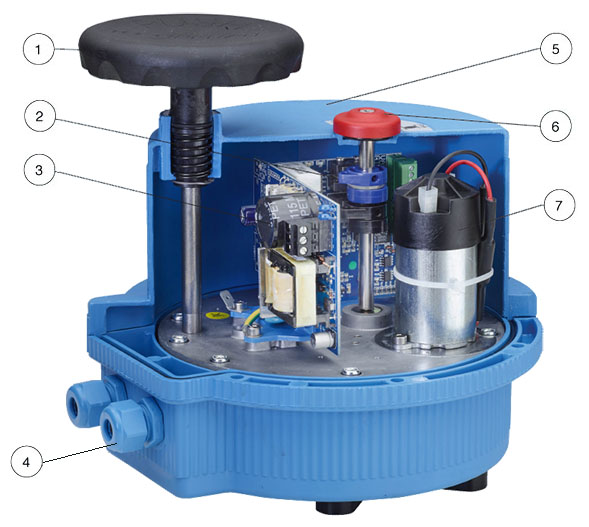 1. "3MANUAL HANDWHEEL"
2. CONTROL BOARD
3. POWER SUPPLY BOARD
4. PG 11 ELECTRIC CONNECTIONS
5. SELF-EXTINGUISH TECHNOPOLYMER ENCLOSURE
6. POSITION INDICATOR
7. DC MOTOR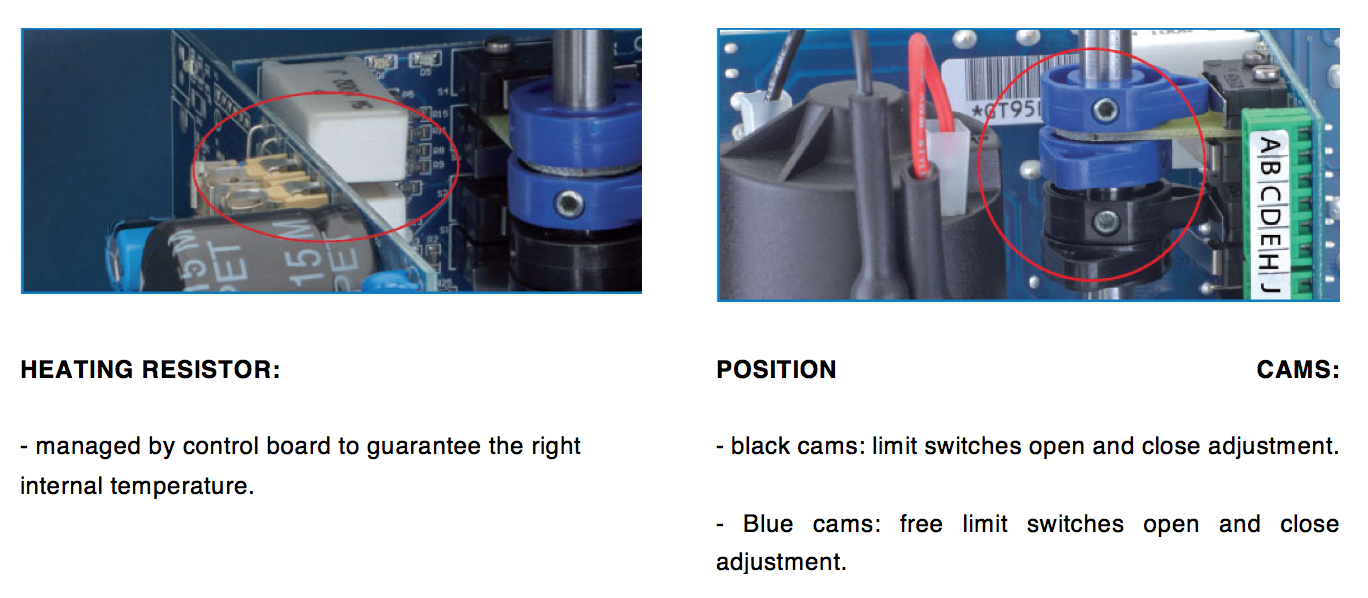 DOWNLOAD