Valbia pneumatic actuators, available in spring return or double acting version, with 0°-90° standard rotation or 0°-180°. This type of actuator is mainly used in industrial processes, to automate interception and adjustment devices.
Using carefully selected materials, Valbia offers a product with a unique patented design, which is able to guarantee high quality standard, performance and strong reliability throughout its useful life.

The possibility to use various types of construction materials and combinations, makes Valbia actuators versatile and suitable to different applications and operating environments; the certifications, achieved by the products, allow the usage in all the major industrial sectors (from food & beverage to the O&G market), both in European and International contest. Valbia is able to propose the most suitable solution according to the different requirements of use and to provide also a wide range of accessories such as solenoid valves, limit switches, positioners, emergency gear operators and levers for manual intervention.
Three series of pneumatic actuators are realized:
• the Series 82, aluminum with 0°-90° rotation;
• the Series 83, aluminum with 0°-180° rotation;
• the Series 84, stainless steel with 0°-90° rotation.

In addition to the standard versions, Valbia offers a wide range of special versions designed to provide specific solutions for any need.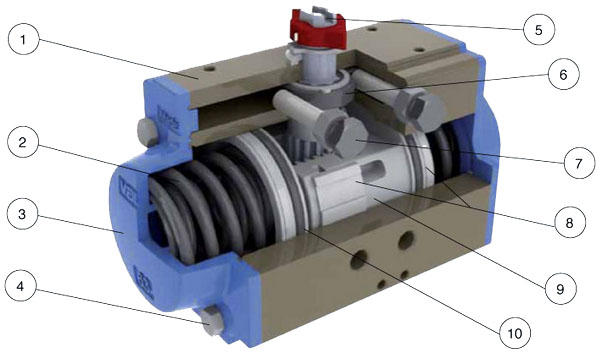 BODY MANUFACTURED FROM EXTRUDED ALUMINIUM UNI 6060
- Hard-coat anodized as standard finish 45-50 (micron).
- Good wear resistance.
- High corrosion resistance.
- Special finishes nickel-plating or P.T.F.E coated for corrosive environments upon request.
- Bore finished to high standard to ensure low friction and lon life.

2. CONCENTRING SPRING SETS
- Standard coating painted.
- High resistance and reliability.
- Spring sets to suit different air pressure/torque requirements.
- Long securing screws to allow safe dismantling for maintenance.
- Same body dimensions for DA/SR versions.

3. DIE CAST ALUMINIUM END CAPS
- Standard polyester powder coated.
- Special finishes nickel-plating or P.T.F.E coated for corrosive environments upon request.

4. ASSEMBLING SCREWS
- Stainless steel as standard.

5. PINION MADE IN STEEL
- Nickel-plated against internal and external corrosion for standard version.
- Stainless steel upon request.
- Anti-blowout design.

6. CAM FOR LIMIT POSITION ADJUSTMENT 0°-90°
- Stainless steel.
- Adjustment for open and close position ± 5°.

7. 0-90° ADJUSTMENT SCREWS
- Stainless steel.

8. PISTON GUIDES IN POM
- Large contact area.
- Low friction for self lubricating material.
- Long life.

9. PISTONS MADE FROM DIE CAST ALUMINIUM
- Chemical nickel-plating upon request.

10. SEALS
- Standard version: NBR.
- High temperature version: Viton.
- Low temperature version: silicone.

TWIN RACK AND PINION DESIGN
- Constant torque output.
- Compact design.
- Balanced internal forces.
- Robust design to ensure long life.

NOMINAL VALUES
- Pressure rating max 8 bar.
- Working temperature: standard (-20°C; +85°C), high (-20°C; +150°C), low (-40°C; +85°C).
- Lubrification guaranteed for the entire actuator lifetime.
- 100% fully tested on manufacture.

EXTERNAL CONNECTION
- Top of pinion according to Namur norm.
- Solenoid valve connection according to Namur norm.
- Bottom of pinion according to ISO 5211-DIN 3337.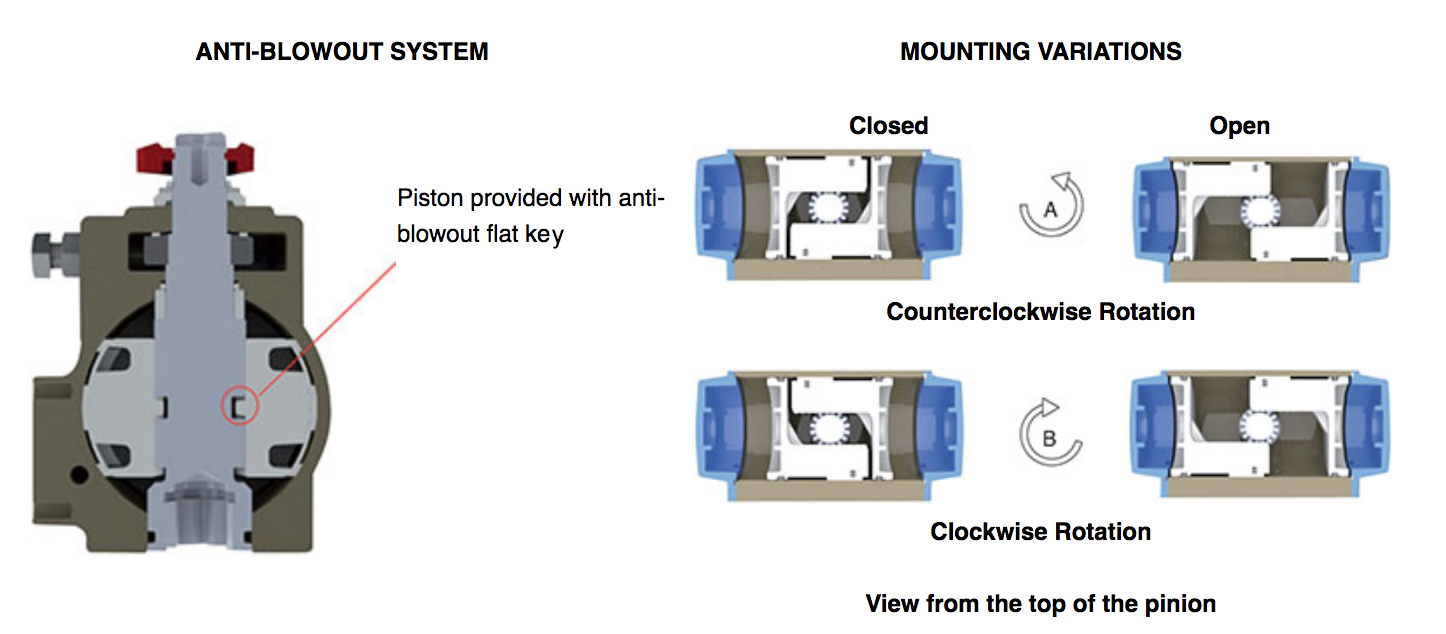 SPRING RETURN ACTUATOR (SR)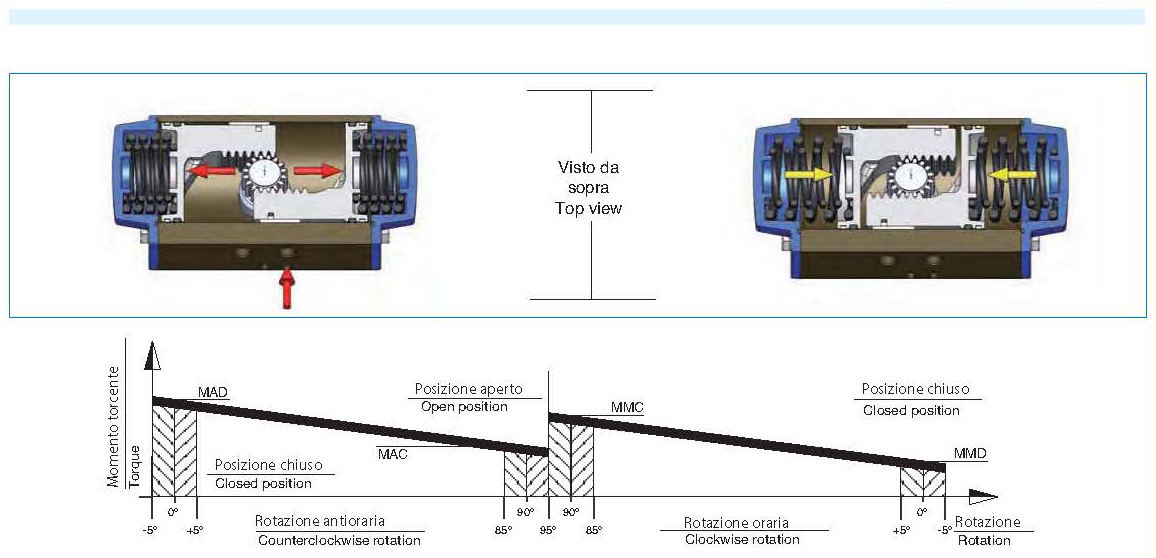 TORQUE OUTPUT "SR" ACTUATORS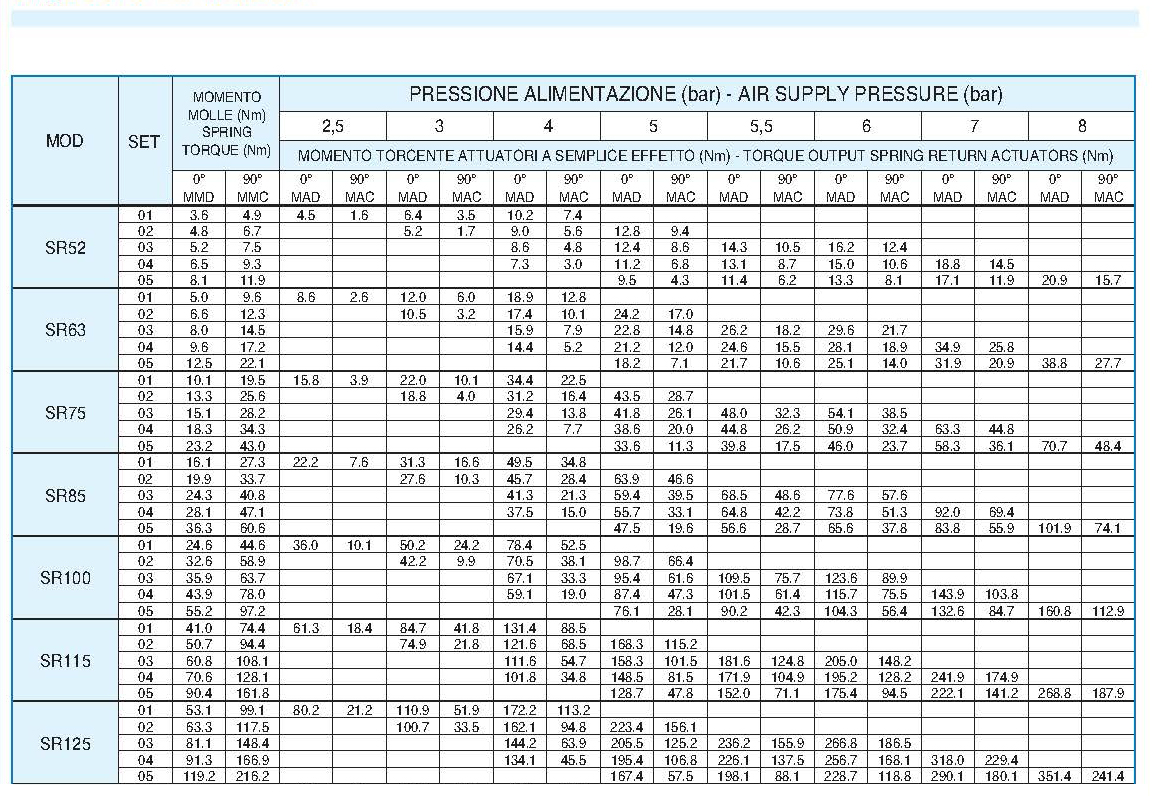 DOUBLE ACTING ACTUATOR (DA)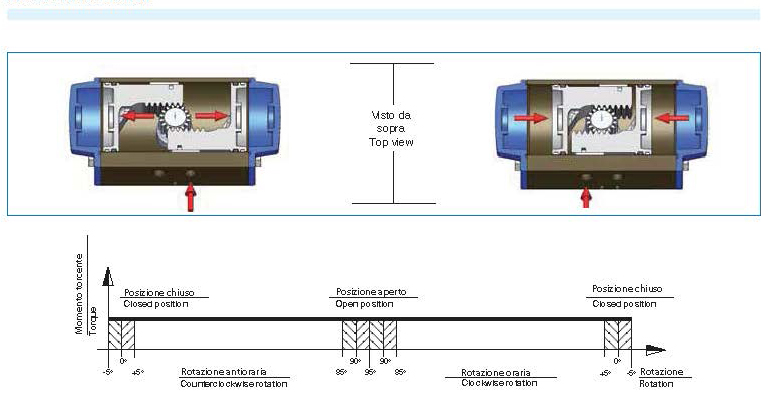 TORQUE OUTPUT "DA" ACTUATORS

DOWNLOADS
VALBIA'S SPRING RETURN ACTUATOR
VALBIA'S DOUBLE ACTING ACTUATOR
VALBIA'S STAINLESS STEEL ACTUATOR
VALBIA'S ACTUATOR PARTS SERIES