The threaded valves of the Goyen T-series set the global standard in high-performance reverse pulse jet valves. The diaphragm valves with threaded ports are designed for the filter cleaning of dust collectors and baghouses in reverse pulse jet systems.

Funtional Description
With the Goyen is the global market leader in the design and manufacturing of reverse pulse jet valves in dust collectors. Our threaded valves are manufactured from aluminum in a high-pressure die cast process.
Also available in stainless steel, the Goyen T-series is designed to operate with air pressures from 0.3 to 8.6 bar. These threaded valves can be orientated in any position other than upside down or inverted.

The temperature range of the threaded valves depends on the chosen model and diaphragm:
- Nitrile diaphragms: -40 °C (-40°F) to 82°C (179.6°F)
- Viton diaphragms -29°C (-20.2°F) to 232°C (449.6°F)
- Selected models with diaphragms for temperatures as low as -60°C (-76°F)
- Springless diaphragm design available

The Goyen design assures an extremely fast opening and closing time, high flow rates and easy installation. These valves are anodised for extra corrosion protection, with bolts and screws in stainless steel. They are available with integrated solenoid pilots or remote pneumatic connections.

Applications
The Goyen T-series of high-performance threaded valves for reverse pulse jet systems in dust collectors. They are used around the world to frequently clean the filters in systems aiming to control the dispersion of noxious substances, improve indoor air quality in workplaces, or prevent harmful dust emissions.
These threaded valves are suitable for use in dust management systems in all types of industries and processes, including:
- cement production
- mining applications
- silo and conyeyor systems
- bulk goods handling
- general industrial dust collection
- improving indoor workplace air quality
- preventing harmful emissions

Benefits
Ready for use in any dust collector design
- For noxious substance control and environmental dust management
Hygienic applications
- Stainless steel version available for F&B and other hygienic applications
Cost savings
- Increased pulse efficiency, reduced energy consumption; Durable materials enhance lifespan; longer filter life, lower OPEX
Compliance
-With environmental and health &safety regulations
Ease of installation
- Convenient mounting with 90° connection

Product Performance & Maintenance Kits

Approvals
- Atex II 2D Mechanical (RCA only)
- CSA (C, US) [C22.2 No 139–10 and UL 429:2009] (CA & RCA)
- C-Tick (CA)
- EMC 2004/108/EC (CA)
- Low Voltage Directive

Order code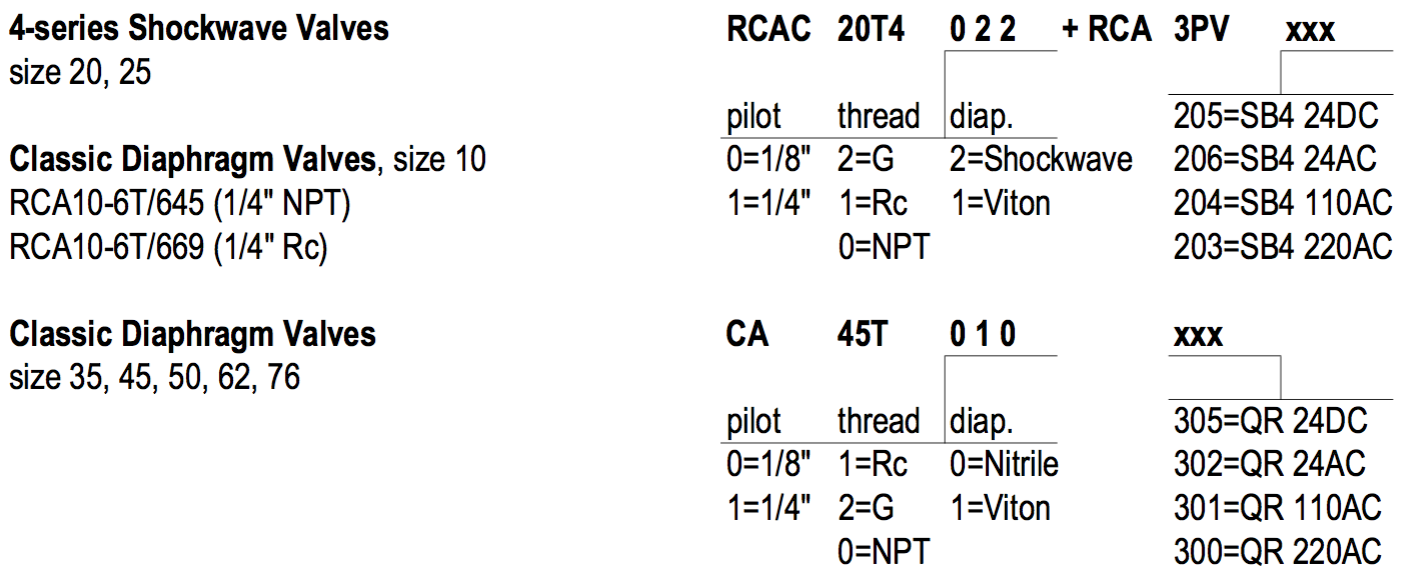 DOWNLOADS